Ibijoke Children Foundation Recognise That Nutrition, Education, Protection, Health, Hygiene And Social Development Of Children Are All Connected. Targeting Efforts For Them At All Stages Of Their Growth.
 
 
Early Childhood Is Defined As The Period From Conception Through Eight Years Of Age.

The earliest years of a child's life are critical. These years determine child's survival and thriving in life, and lay the foundations for her/his learning and holistic develop the connive, physical, social and emotional skills that they need to succeed in life. These early experiences are largely determined by supportive family and community care practices, proper nutrition and health care, learning opportunities, which in turn are dependent on enabling policies and investments for young children and families. Early Childhood Education positively impacts attendance, retention, and learning of children in elementary and higher education.

Nigeria has the largest number of children out of school in the world, 10.5 million children out of school. Unicef has been campaigning on this issue as well as a number of other groups. most affected were girls, street children and the children of nomadic groups. Prosperity can only be achieved with an inclusive and functional education system, the failure in the education system is due to a lack of government funding. Government funded school in Nigeria have practically collapsed over the years because of poor funding leaving children from poor homes with nowhere to go but street.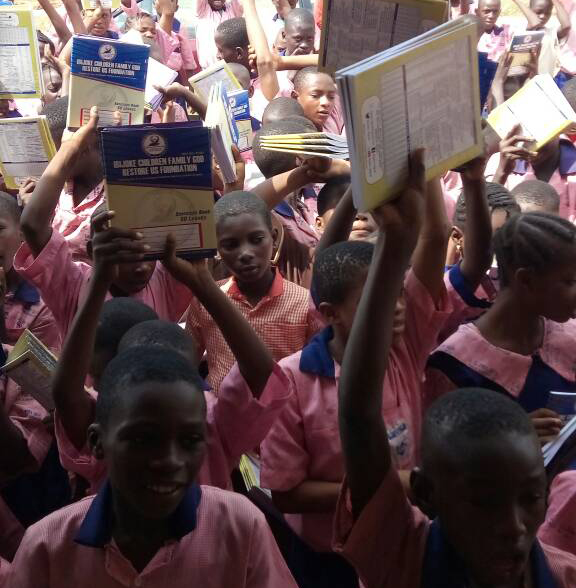 (Image above: 200 pupils benefited from our exercise books, give away programme at local government Baale Akinosi primary school, Ogun State)
 
"ICF EDUCATION INTERVENTION"
 
IBIJOKE CHILDREN FOUNDATION (ICF), has since inception been actively involved in the reduction of illiteracy in Nigeria through our continuous education intervention programmes where widow's children, orphans and other disadvantaged minorities in remote communities can have access to free quality education. We understand the need of every child for basic education, hence we organise coordinated actions such as providing education materials, and provision of back to school supplies, and paying the school fees of widow's children, orphans and other disadvantaged children. Education is very vital to the growth and development of any individual and the society at large.
 
Ibijoke Children Foundation, is deeply committed to offering free access to quality education to the less privileged children. costs between 8,500 Naira and above to keep a child in private school per term, in Ogun State.
 
 
In Nigeria, millions of children are out of school. in addition, poor learning environment dose not provide the quality education that would allow students to achieve their full potential. many children of primary school age also continue to experience physical and psychological violence both in schools and within the family environment while child labour continues to be a real source of concern, depriving many children of opportunities for schooling and development. children living on the streets, orphans and other groups of vulnerable children are also deprived of their right to basic primary education.
 
We call on the government and other agencies, private organisations, and international agencies to jointly ensure the abolishment of fee paying school plans which discourage many of the low income families from enrolling their kids in school, to offer incentives free education and improvement in the quality of our schools. Getting enrolled in to a school programme is one thing but if the conditions are not changed and made favourably many children might drop out of school still. together we can make a difference in the life of a child by offering access to education, which ensures for a brighter future.
 
References
 
 
(2) Unicef, The Child's Right Act (August 2007)