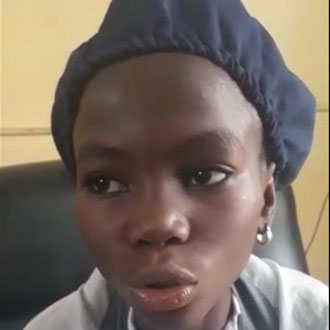 We're helping vulnerable children and young people get back into school and get back on track for their exams.

For just 60p a day, your sponsorship with Ibijoke Children Foundation will help a child in one of the poorest cities in Nigeria gets access to nutrition food, clean water, health care, and education.
Your sponsorship would help a girl like Kehinde from Ogun state grow up safely and happy.

All children have hopes and dreams, but poverty and injustice can hold them back. They might face violence, miss out on an education, or be prevented from claiming their rights.  But it doesn't have to be this way.

By sponsoring a child, you will help us work with local communities to overcome these injustices and unlock a child's potential. Your support will mean that some children, in some of the poorest parts of the cities in Nigeria can look forward to a brighter future.

So, the hopes and dreams of girls like Kehinde might one day become a reality.
Each community has different needs, but from £25 per month you will be providing them with:
Education and child rights
We work alongside communities to better understand their children's rights, and how they can raise their voices to protect and provide for their children. Basic school supplies are crucial for educational advancement, your donation provides essenital school supplies for poor children in Nigeria.

Health care
The issues are varied; so are our solutions. We'll work with volunteer healthcare professionals, and also work with families to make changes that will keep them healthy. Your donation helps towards the cost of hospital bill and medicine.

Income generation
We can provide training in skills, support widows and poor parents to start-up their own businesses- making an income and boosting their local economies.

Nutrients food
Every day a child from africa died because they have no food to eat. A child that's had good nutrition would just shrug it off, but for a child that's really fragile and has a compromised immune system it becomes really life threatening. Your donation provides nutrients food they need.
The chance to learn can change a child's life
Every child has the right to an education whatever their background, gender or ethnicity. Ibijoke Children Foundation want to see a world where all children enjoy this right. Without the opportunity to learn children can't develop to their full potential. They're more likely to be trapped in cycles of poverty, poor health and forced labour often in dangerous environments.


Ibijoke Children Foundation supports innovative programme that give the most vulnerable children the chance to learn. We work with governments school, communities and parents to enable every child to access a quality education. We help children get back in to school for example, we provide textbooks, school uniforms, and paying for their school fees etc.

The holistic approach ensures that not only are the children keeping up with their studies, but also that are safe and happy after they leave school.
 
Poverty is driving a rise in the number of Nigeria  child hawkers.
 
Child street hawking is common sight on streets in Nigeria's cities, Children sell products such as fruits, plantain chips, and groundnut that they carry on trays balanced on their heads. In recent months, the practice has been on the rise. the increase is the result of continuous increase of poverty and the worsening economic situation.
 
The International Labour Organisation estimates that in Nigeria about 14 million children between the ages of five and 14 are involved in a form of economic activity.
 
Globally there are 168 million children involved in child labour. of these, 59 million are from sub-Saharan Africa.
 
Child street hawking is one of the main forms of child labour. Others include children working at building  site or on farms.Nigeria's population is estimated at 183 million with about 50% below the age of 18. There is a need for the government to make adequate provisions for education, care and protection for this group, if the nation wants to progress.
 
In 2008, the Lagos state government banned child street hawking during school hours to reduce the practice. But since then, addressing child street hawking has not been on the government's agenda.
 
Street hawking has huge implications for children's physical and emotional well- being. It exhaustion, vehicle accidents, death and malnourishment, drug and substance abuse and prostitution.
 
Research shows that among the young girls who street hawk, there is a low awareness of pregnancy or the risk of sexually transmitted infections.
 
Ref:
(Nzubechukwu Okeke) October 27 - 2015,
Cardiff Metropolitan.
 
 
Disadvantages of street hawking 

 
The disadvantages of street hawking on children, especially the girl child far outweighs what advantages there might be to this practice and the following are some of it.

For those children that are in school already, they tend to hawk their wares before going to school and after school hours, they have to wake up very early and sleep late, this negatively affects their psychology, creates room for unseriousness and lack of interest in school work, difficulty in learning and thereby underachieving as a pupil /student that would eventually lead to dropping out of school even before having the basic education and this in the long run is detrimental to the society, only a few of these children can withstand the stress of this practice.

Hawking in the street would expose a child to the danger of automobile accidents, and they also risk being kidnapped for rituals and human trafficking, if it's a girl child she could end up being sold out to the child prostituting rings.
 
 
Researchers have described child street hawking as an exploitative form of child labour.
 
There are three ways that children become street hawkers. first, most of them are trafficked from the rural communities to the cities for illicit businesses.
 
The second way is through their parents, who send them to the street to hawk to supplement their family income. In most cases, their families migrated to the city on their own but could not cope with the high cost of living. Deplorable living conditions and the high rate of unemployment in rural communities because of the government's focus on development projects in cities have given people no option but to migrate to the city. It fosters the notion that migrating to the city is the best way to break the poverty-cycle.
 
Third, they are orphans who lost their parents either to disease or terrorist activity. They live on the street and hawk for survival.
 
 
 
Child street hawking opposes the UN convention on rights of the child, Nigeria is a signatory to the convention, which was established in 1989. The conversation makes it an offence to involve children in an activity which impacts negatively on their health and well- being. The conversation also emphasises the need for government t0 protect children from exploitation.
 
In addition to the conversation, Nigeria's Child Rights Act has similar provisions. It says children should be protected from trafficking and or street hawking. But the implementation of these provisions has been being trafficked and pushed into street hawking despite the many dangers associated with it.
 
In the past the government has provided some structural intervention. These include the Universal Basic Education programme. Introduced in 1999, it was intended to guarantee tuition-free compulsory basic education for all children in Nigeria. But due to poor infrastructure, inadequate funding and lowering education standards, the impact is yet to be felt.
 
 
Creating a protective environment
 
Despite the emotional trauma and physical dangers these vulnerable children face, little is being done to protect them or to discourage such practices. poverty alleviation, health education and protective child rights policies would decrease the prevalence of child street hawking.
 
The parents of children who street hawk should be empowered economically to be able to take care of them. But the government should also create awareness about child trafficking and provide affected children with support.
 
Constantly denying children their right to be protected and cared for has an impact on their effective development and well-being and is an injustice. A concerted efforts should be made to implement the UN convention and the provisions of the Child Rights Act.
 
More importantly, the government must understand the psychological impact of this trade. It must tailor interventions to meet the needs of these children and to reduce the practice.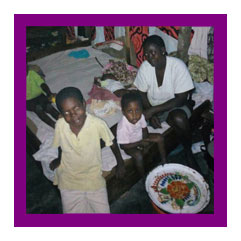 Families Without a breadwinner are forced to make unimaginable choices just to buy food,
one widow would be left caring for seven children. Widow's and their chi
ldren had no support in Nigeria and no infrastructure in their society to offe
r
them social security. They had no hope. I could not get these children or widow's out of my mind as I thought about this family, I felt a sense of the desperation and hopelessness they must be feeling. one thing that was clear was that they needed support. In Nigeria where almost 100 million people living on less than a $1 (£0.63) a day, orphans and widows like these are forced to make unimaginable choices just to buy food.

When the breadwinner of a family dies, the emotional loss is devastating. But the loss of financial stability in such a tough environment can have the most devastating and life changing impact of all. When the options are to eat or not to eat, most people in Nigeria  are forced to make choices that most people in the West cannot even begin to imagine being faced with.

 
 
If we make a commitment to support the most vulnerable people, we need to be able to commit to helping them regularly. For this reason we would ask you to support a widow or child with food and essentials as a regular giving commitment each month by standing order or direct debit through our PayPal  by visiting our website. The needs of each family are different, so we haven't specified an amount per child or per family. However, it costs approximately  £25-30 to buy adequate food for one child each month. For babies that have lost their mother or if their mother cannot feed them, baby milk is expensive and it can cost around £16 per tin of formula which lasts a few days depending on the baby.

With your help young widows in Nigeria can be given the opportunity to get education and vocational training of their choice,  for example, tailoring, soap making, baking etc. This would give them the chance to earn a living, to support themselves and their families.